Cone Beam Imaging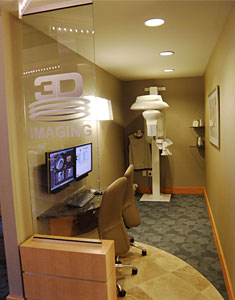 Kodak 9000 3D Extraoral Imaging System
In an ongoing effort to provide you with the best care possible, our practice has invested in the KODAK 9000 3D Extraoral Imaging System, revolutionizing patient treatment and enhancing our ability to treat oral infections.
Since 2010, we have been one of the small number of Atlanta Endodontists that have a small field, high-resolution cone beam computed volumetric tomography (CBCT) unit in our office. This small field unit provides three-dimensional radiographic images of the teeth and jaws, allowing greatly improved viewing of orofacial structures.
While a thorough history and clinical examination are essential for the diagnosis of odontogenic pain, interpretation of periapical radiographs (PAs) is complicated by the background pattern of overlapping roots and anatomic structures such as the maxillary sinus and the zygomatic buttress. The use of computed tomography (CT) enables the evaluation of the true extent of lesions and their spatial relationship to important anatomic landmarks. The Kodak 9000 3D is used to assess canal morphology, diagnose fractured roots, missed canals, find calcified canals and to identify periapical lesions not visible on a 2D radiograph. Proximity of vital structures such as the mandibular nerve, mental foramen and maxillary sinus to teeth can be seen in 3D prior to performing apicoectomies.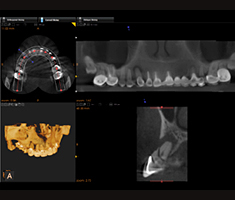 Viewing an unprecedented level of anatomical detail helps Dr. Bath and Dr. Cramer diagnose more accurately and treat with confidence. A recent study by Low, et al, published in the Journal of Endodontics, has demonstrated a 34% improvement in visualizing lesions of endodontic origin when compared to PA radiography alone.
Radiation dose to the patient is another benefit of CBCT imaging. While a medical CT image of the maxilla and mandible is about 2.0 mSv or the equivalent of 243 days of background radiation, a small field CBCT will require only 0.005 - 0.038 mSv or the equivalent of 1 - 5 days of background radiation, depending on the area of interest.
The scan takes 30 seconds and after 2 minutes, the 3D volume can be analyzed using slices 0.076mm thick versus the 0.2mm per slice of other scanners. Three-dimensional images from the Kodak 9000 3D system are generated in standard DICOM format for easy image sharing, should we need to collaborate on a case.
We are excited to provide this technology to our patients and our referring dentists to assist with evaluation of dentition to rule out odontogenic pathosis. Please do not hesitate to Contact Us if you have any questions.