About Dr. Ritu Bath
Dr. Bath graduated Summa Cum Laude receiving her Bachelor of Finance/Economics at Augusta State University. She graduated in 1999 from the Medical College of Georgia School of Dentistry at the top of her class. In 2001 she completed her endodontic residency at the most esteemed endodontic program in the country at the University of Washington, Seattle. Dr. Bath has been in private practice in Marietta since 2001. When not treating patients she enjoys spending time with her husband and her two daughters. She also enjoys cooking and traveling.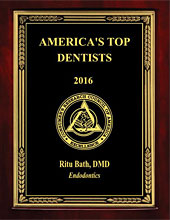 Dr. Bath is a specialist member of the American Association of Endodontists, the American Dental Association, Fellow of the Pierre Fauchard Academy, the Georgia Association of Endodontists, the Georgia Dental Association, the Hinman Dental Society and the Northwest District Dental Society. She also serves on the executive council of the Northwest District Dental Society.
Voted as one of "America's Top Dentists"
by the Consumers' Research Council of America in
2016, 2014, 2013, 2011, 2010 & 2008.