Our Financial Policy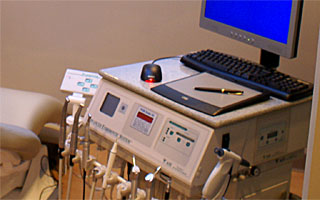 If we only provide a consultation, payment is due in full at time of service. A statement will be given to you to help you bill your insurance.
Those with dental insurance:
At Kennestone Endodontics as a courtesy to our patients we will file your insurance claim. Keep in mind that your insurance plan is a contract between you, your employer and the insurance company. It is your responsibility to bring the policy holder's information as well as your insurance company information. At or prior to your appointment our staff will contact your insurance company to determine your benefits. All information given by an insurance company is just an estimate of your benefits and not a guarantee of coverage. This means that while we have done our best to estimate your out of pocket expense, the insurance company actually processes the claim, the insurance payment may be substantially less than expected. Sometimes, it is more than expected, but nobody ever complains about that! Ultimately, the patient is responsible for all incurred fees. We cannot be responsible for knowing how much your insurance company will reimburse for procedures. The deposits we collect are only estimates. If payment from your insurance company is not received within 60 days of treatment, your balance is then due in full and is your responsibility. If your insurance policy does not have out of network benefits Kennestone Endodontics will be unable to file claims for you. We accept most major dental insurance plans and are in-network with some insurance companies. We will be glad to research your coverage, please Contact Us for assistance.
Our practice is committed to providing the best treatment possible for our patients and we charge what is usual and customary for our area, regardless of any insurance company's arbitrary determination for usual and customary. On average, insurance companies will reimburse approximately 50% to 80% of our fees. Our office policy is to verify your coverage and your estimated out of pocket cost is due at the time of your appointment. For those without dental insurance, payment in full is due at the time of service.
If your insurance company does not reimburse us after 2 submissions, you will be responsible for the remainder of the balance since we were unable to collect from them. Interest will be charged on unpaid balances at 18% APR 60 days from the start of treatment. Once the insurance company has paid on the claim any credit on your account will be mailed to you in the form of a check within 30 days, any balance will be due by the patient upon receipt of statement. Kennestone Endodontics does not file secondary claims; we will however assist you with all the necessary paperwork to do so. We accept Visa, Mastercard, American Express, Discover, Personal Checks, Debit cards and Cash.

We also provide 3rd party financing through CareCredit®
Those without dental insurance:
Payment is due in full at time of service.
Our primary concern is providing quality endodontic care for our patients.